Choosing the right company to replace or repair your heating or air conditioning system is important because the quality of your contractor's workmanship will determine the results of your project. Mistakes performed during your HVAC project can affect the performance and lifespan of your system. As one of the top local HVAC companies in our community, you can rely on Anderson Refrigeration, Inc. for all of your heating and cooling needs. Here's an overview of our services: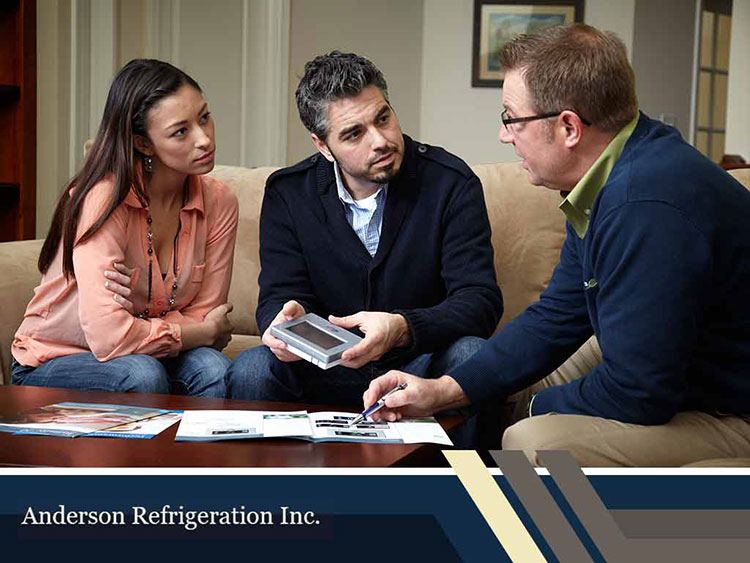 HVAC Replacement
At Anderson Refrigeration, Inc., we're experts in HVAC system replacement. We know how to properly size and design HVAC systems, and we don't make mistakes during installation. In addition, we offer Carrier® products. Carrier manufactures world-class HVAC products, and they stand behind the quality of their work. They have a strong commitment to customer service and are at the forefront of the HVAC industry. Carrier heating and cooling systems are energy-efficient, durable and reliable.
HVAC Repairs
As one of the top cooling and heating contractors in our area, we can help our customers deal with any kind of HVAC problem. Call us whenever you hear a strange noise coming from your system or when it's not performing as it should. We can accurately diagnose the cause of your problem and perform the necessary repairs.
Blown-In Insulation
Adding insulation to a home is one of the best ways to improve its energy efficiency. We use high-quality blown-in insulation to make the homes of our customers more energy-efficient and comfortable. Our insulation has a high R-value, which means that it's effective at minimizing heat transfer. Adding insulation to your home can make your home feel cooler in summer and warmer in winter, and can also help reduce your energy bills.
We're known for our high-quality HVAC repair and replacement services, which can help your heating and cooling system perform more efficiently and last as long as possible. We have decades of experience, so we know how to handle any kind of heating or cooling problem. Call us at (575) 437-8792 to learn more about our products and services or to request an appointment. We serve homeowners in La Luz, NM.
---
Filed Under: HVAC