Building Custom Bases for HVAC Roof Units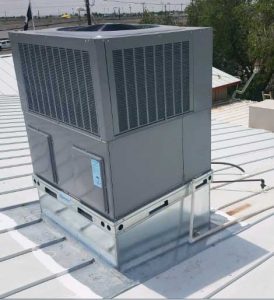 Anderson Refrigeration, Inc. - Heating & Cooling is the leading expert in air conditioning in Alamogordo, NM and nearby areas. We also provide a variety of related services such as building custom bases for HVAC rooftop units. Unlike some companies, we don't use standard one-size-fits all frames. We instead customize the base for your HVAC rooftop unit based on your roof's design, materials and measurements. This can reduce the risk of problems and will allow your roof to accommodate the HVAC better.
Why Choose Anderson Refrigeration, Inc. - Heating & Cooling?
Many businesses choose us because our decades of experience and proven reputation. We always put the customer first during our projects, which is why we make custom bases instead of using a standard base. This is just one way we make things better for our customers. We will also act as your reliable partner during your HVAC project. We will be available to answer your questions and address your concerns. We want you to have a quick and hassle-free experience when you work with us.
In addition, we are a Factory-Authorized Carrier® Dealer. We use Carrier products because Carrier manufactures world-class HVAC systems for both businesses and homes. Carrier heating and cooling systems are energy-efficient, long-lasting and durable. In addition, Carrier also stands behind their work, just like us. At Anderson Refrigeration, Inc. - Heating & Cooling we will do our best to exceed your expectations.
What Makes Our Company Different?
Our expert technicians will work with you to design the best HVAC rooftop unit base for your needs. They will evaluate your roof's design and materials and make a base that will accommodate your HVAC rooftop unit precisely. This custom design will maximize the heating and cooling efficiency of the HVAC rooftop unit and prevent air leaks. When you work with us, you can expect honest advice and fair prices.
Call Us Today and Request an Appointment!
Are you interested in talking to an expert in air conditioning in Alamogordo, NM about your project? Call us at (575) 437-8792 to learn more about our services and products or to request an appointment. We look forward to helping you.