Providing Superior HVAC Services in Cloudcroft
Cloudcroft's unique location means that it has special needs when it comes to comfort. The high elevation means that you'll have to think about heating more than other homeowners in New Mexico. Fortunately, we can help you. Anderson Refrigeration, Inc. - Heating & Cooling is the leading expert in HVAC installation and HVAC Repair in Alamogordo, NM and nearby areas. We are heating and cooling specialists so we have the skills and knowledge to make sure that your home stays comfortable all year-round.
Our Superior Products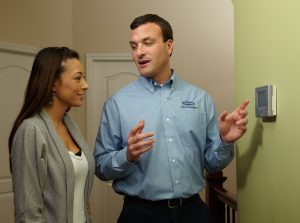 We are a Carrier® Factory Authorized Dealer and this means we can offer our customers some of the best heating and cooling systems in the industry. Carrier manufacturers world-class products. Their HVAC systems are ENERGY STAR® rated and they can help improve your home's energy efficiency. In addition, their products are also durable and well-built enough to last for many years. We meet Carrier's highest standards, so you can trust us to install, repair or maintain your HVAC system.
Why Choose Anderson Refrigeration, Inc. - Heating & Cooling?
Many homeowners choose to work with our company because we believe in putting the customer first. No job is too large or too small for our company, and we always treat our customers with respect and we treat their homes with care. We will give you one-on-one attention and make sure to answer all of your questions and concerns. You can trust us to provide you with honest and practical advice and to give you fair estimates. Our commitment to excellence and customer service are the reasons so many homeowners trusted us through the decades.
How Our Services Can Help You
Our services can help make your home more comfortable and save you money on your energy bills. We can fix your HVAC system's problems and return it to good condition. We can also upgrade your system to a more efficient unit. We can also service your heating and cooling systems and make sure that they last as long as possible. Finally, we can also install blown in insulation to further maximize your home's energy efficiency.
Call Us Today!
You can count on Anderson Refrigeration, Inc. - Heating & Cooling for your HVAC replacement or HVAC repair in Alamogordo NM or nearby areas. Call us at (575) 437-8792 to learn more about our services and products or to request an appointment.

Your subscription is not active
Please visit the admin site to re-activate your subscription